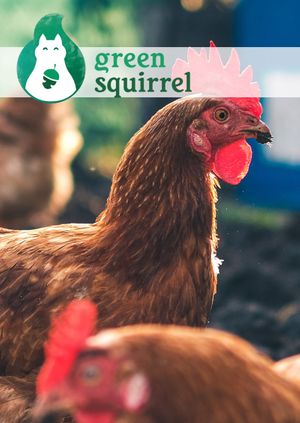 Urban hens / Ieir Trefol
17th Feb 2021 6:30pm - 8pm
Add to Calendar
2021-02-17 18:30:00
2021-02-17 20:00:00
Europe/London
Urban hens / Ieir Trefol
Even a small urban garden can become a home for happy hens. In this interactive zoom session you'll explore how to house, feed, and care for hens in an small garden. You'll learn how to correctly handle a hen, carry out some basic healthcare tasks and look after their well being as well as virtually meeting some of Hannah's happy hens.About your tutor: Hannah has over a decade's experience of teaching urban chicken keeping and has kept chickens in many different environments; from a city farm in London to a tiny urban garden in Cardiff. About the session:This will be a friendly and interactive zoom session and we'll send you an email a few days prior to the event with all the info you need to join us. We will begin the session with a quick introduction to using zoom so that you feel comfortable taking part and asking questions.Ticket prices and free places: Over the past few months we've been able to offer our activities and events free of charge to our community due to the support of our funders. As we start to transition to a new long term and sustainable way of working we need to introduce fees once again. We want our events to remain affordable and accessible so we will always reserve a number of free places for those that find the price prohibitive - no catches, no questions, we trust you and want to support you to learn new skills.If you're interested in holding this workshop for your organisation then please get in touch for a chat: becca@green-squirrel.co.ukWe are very grateful for the support of the Community Fund.------------------------------------------ Gall hyd yn oed ardd fach drefol fod yn gartref i ieir hapus Yn y sesiwn rhyngweithiol zoom yma,fyddech chi'n archwilio sut i gysgodi, bwydo a gwarchod ieir mewn gardd fach. Byddech chi'n dysgu sut i drin iâr yn gywir, cwblhau tasgau gofal iechyd syml, ac edrych ar ôl eu lles. Hefyd fydd rhai o ieir hapus Hannah yn galw draw! Am eich tiwtor: Mae gan Hannah dros ddeng mlynedd o brofiad yn dysgu eraill sut i gadw ieir mewn tref. Mae hi wedi edrych ar ôl ieir mewn amgylcheddau gwahanol, o fferm drefol yn Llundain i ardd fach iawn yng Nghaerdydd.Gwybodaeth am y sesiwn:Sesiwn cyfeillgar a rhyngweithiol 'Zoom' fydd y digwyddiad yma. Anfonwn e-bost i chi ychydig ddiwrnodau ymlaen llaw yn cynnwys yr holl wybodaeth a fydd angen arnoch er mwyn ymuno gyda ni. Dechreuwn ni'n sesiwn gyda chyflwyniad cyflym yn esbonio sut i ddefnyddio Zoom, fel yr ydych chi'n teimlo'n gyfforddus i gymryd rhan a gofyn cwestiynau.Dros y misoedd diwethaf, rydyn ni wedi bod yn ffodus i allu cynnig ein gweithgareddau a digwyddiadau am ddim i'n cymuned, gyda diolch i'n cyllidwyr. Nawr ein bod ni'n trawsnewid i mewn i ffordd hir dymor, cynaliadwy o weithio, mae angen codi tal unwaith eto.Rydyn ni eisiau i'n ddigwyddiadau parhau i fod yn fforddiadwy a hygyrch, felly rydyn ni pob tro yn cadw nifer o lefydd am ddim ar gyfer pobl sydd angen. Does dim amodau, dim cwestiynau- rydyn ni'n ymddiried ynddoch chi ac eisiau eich cefnogi i ddysgu sgiliau newydd.Os oes diddordeb gyda chi mewn cynnal y gweithdy yma ar gyfer eich sefydliad chi, cysylltwch gyda ni am sgwrs: becca@green-squirrel.co.uk.Rydyn ni'n ddiolchgar iawn i'r Gronfa Gymunedol. https://green-city-events.eventcube.io/events/11220/urban-hens-ieir-trefol
We will send you a link prior to the event., Cardiff & beyond, Everyone welcome
Event Details
Even a small urban garden can become a home for happy hens.
In this interactive zoom session you'll explore how to house, feed, and care for hens in an small garden. You'll learn how to correctly handle a hen, carry out some basic healthcare tasks and look after their well being as well as virtually meeting some of Hannah's happy hens.
About your tutor: Hannah has over a decade's experience of teaching urban chicken keeping and has kept chickens in many different environments; from a city farm in London to a tiny urban garden in Cardiff.
About the session:
This will be a friendly and interactive zoom session and we'll send you an email a few days prior to the event with all the info you need to join us. We will begin the session with a quick introduction to using zoom so that you feel comfortable taking part and asking questions.
Ticket prices and free places:
Over the past few months we've been able to offer our activities and events free of charge to our community due to the support of our funders. As we start to transition to a new long term and sustainable way of working we need to introduce fees once again.
We want our events to remain affordable and accessible so we will always reserve a number of free places for those that find the price prohibitive - no catches, no questions, we trust you and want to support you to learn new skills.
If you're interested in holding this workshop for your organisation then please get in touch for a chat: becca@green-squirrel.co.uk
We are very grateful for the support of the Community Fund.
------------------------------------------
Gall hyd yn oed ardd fach drefol fod yn gartref i ieir hapus
Yn y sesiwn rhyngweithiol zoom yma,fyddech chi'n archwilio sut i gysgodi, bwydo a gwarchod ieir mewn gardd fach. Byddech chi'n dysgu sut i drin iâr yn gywir, cwblhau tasgau gofal iechyd syml, ac edrych ar ôl eu lles. Hefyd fydd rhai o ieir hapus Hannah yn galw draw!
Am eich tiwtor: Mae gan Hannah dros ddeng mlynedd o brofiad yn dysgu eraill sut i gadw ieir mewn tref. Mae hi wedi edrych ar ôl ieir mewn amgylcheddau gwahanol, o fferm drefol yn Llundain i ardd fach iawn yng Nghaerdydd.
Gwybodaeth am y sesiwn:
Sesiwn cyfeillgar a rhyngweithiol 'Zoom' fydd y digwyddiad yma. Anfonwn e-bost i chi ychydig ddiwrnodau ymlaen llaw yn cynnwys yr holl wybodaeth a fydd angen arnoch er mwyn ymuno gyda ni. Dechreuwn ni'n sesiwn gyda chyflwyniad cyflym yn esbonio sut i ddefnyddio Zoom, fel yr ydych chi'n teimlo'n gyfforddus i gymryd rhan a gofyn cwestiynau.
Dros y misoedd diwethaf, rydyn ni wedi bod yn ffodus i allu cynnig ein gweithgareddau a digwyddiadau am ddim i'n cymuned, gyda diolch i'n cyllidwyr. Nawr ein bod ni'n trawsnewid i mewn i ffordd hir dymor, cynaliadwy o weithio, mae angen codi tal unwaith eto.
Rydyn ni eisiau i'n ddigwyddiadau parhau i fod yn fforddiadwy a hygyrch, felly rydyn ni pob tro yn cadw nifer o lefydd am ddim ar gyfer pobl sydd angen. Does dim amodau, dim cwestiynau- rydyn ni'n ymddiried ynddoch chi ac eisiau eich cefnogi i ddysgu sgiliau newydd.
Os oes diddordeb gyda chi mewn cynnal y gweithdy yma ar gyfer eich sefydliad chi, cysylltwch gyda ni am sgwrs: becca@green-squirrel.co.uk.
Rydyn ni'n ddiolchgar iawn i'r Gronfa Gymunedol.