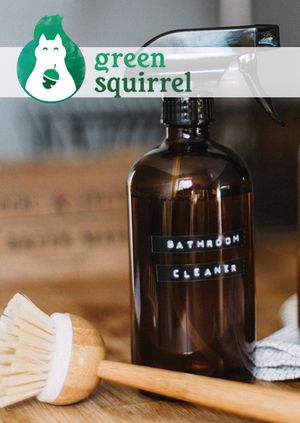 Wasteless Bathroom / Ystafell Ymolchi Ddiwastraff
3rd Feb 2021 6:30pm - 8pm
Add to Calendar
2021-02-03 18:30:00
2021-02-03 20:00:00
Europe/London
Wasteless Bathroom / Ystafell Ymolchi Ddiwastraff
Are you panicked by plastic or stressed out by single-use stuff? This workshop will help you take simple but effective steps to cut down on the amount of packaging and waste coming from your bathroom. In this interactive zoom session you'll learn to make a selection of natural cleaning products and bathroom beauty treats. We'll be sharing demos, recipes and practical knowledge to help make greener living achievable and enjoyable.You can choose to have a mini wasteless kit sent to you prior to the workshop so you can get started straight away or you can opt to just watch and learn.About your tutors: Hannah and Becca run Green Squirrel and are advocates of lower waste living. They love to experiment with creative ways to waste less in their homes and can't wait to share these with you!About the session:This will be a friendly and interactive zoom session and we'll send you an email a few days prior to the event with all the info you need to join us. We will begin the session with a quick introduction to using zoom so that you feel comfortable taking part and asking questions.Ticket prices and free places: Over the past few months we've been able to offer our activities and events free of charge to our community due to the support of our funders. As we start to transition to a new long term and sustainable way of working we need to introduce fees once again. We want our events to remain affordable and accessible so we will always reserve a number of free places for those that find the price prohibitive - no catches, no questions, we trust you and want to support you to learn new skills.If you're interested in holding this workshop for your organisation then please get in touch for a chat: becca@green-squirrel.co.ukWe are very grateful for the support of the Community Fund.------------------------------------------------ Ydy plastic yn gwneud i chi panicio, neu ddeunydd 'un defnydd' yn achosi straen? Gall y gweithdy yma eich helpu i wneud camau bach ond effeithiol i leihau faint o ddeunydd pacio a gwastraff sy'n dod o'ch ystafell ymolchi. Yn y sesiwn rhyngweithiol zoom yma, cewch gyfle i ddysgu sut i greu dewis o gynnyrch glanhau naturiol, a nwyddau harddwch. Byddwn ni'n rhannu dangosiadau, ryseitiau, a gwybodaeth ymarferol er mwyn gwneud byw bywyd 'gwyrdd' yn gyraeddadwy ac yn hwyl. Mae dewis gyda chi i drefnu i gael pecyn 'ddiwastraff' ei hanfon atoch chi ym mlaen llaw fel gallech chi ddechrau'n syth, neu mae croeso i chi aros i wylio a dysgu, Gwybodaeth am eich tiwtoriaid: Mae Hannah a Becca yn rhedeg cwmni Green Squirrel ac yn eiriolwyr dros fyw mewn ffordd gwastraff isel. Maen nhw wrth eu boddau yn arbrofi gyda ffurf greadigol o wastraffu llai yn y cartref, ac yn methu aros i rannu'i syniadau gyda chi! Gwybodaeth am y sesiwn: Sesiwn cyfeillgar a rhyngweithiol 'Zoom' fydd y digwyddiad yma. Anfonwn e-bost i chi ychydig ddiwrnodau ymlaen llaw yn cynnwys yr holl wybodaeth a fydd angen arnoch er mwyn ymuno gyda ni. Dechreuwn ni'n sesiwn gyda chyflwyniad cyflym yn esbonio sut i ddefnyddio Zoom, fel yr ydych chi'n teimlo'n gyfforddus i gymryd rhan a gofyn cwestiynau. Dros y misoedd diwethaf, rydyn ni wedi bod yn ffodus i allu cynnig ein gweithgareddau a digwyddiadau am ddim i'n cymuned, gyda diolch i'n cyllidwyr. Nawr ein bod ni'n trawsnewid i mewn i ffordd hir dymor, cynaliadwy o weithio, mae angen codi tal unwaith eto. Rydyn ni eisiau i'n ddigwyddiadau parhau i fod yn fforddiadwy a hygyrch, felly rydyn ni pob tro yn cadw nifer o lefydd am ddim ar gyfer pobl sydd angen. Does dim amodau, dim cwestiynau- rydyn ni'n ymddiried ynddoch chi ac eisiau eich cefnogi i ddysgu sgiliau newydd. Os oes diddordeb gyda chi mewn cynnal y gweithdy yma ar gyfer eich sefydliad chi, cysylltwch gyda ni am sgwrs: becca@green-squirrel.co.uk. Rydyn ni'n ddiolchgar iawn i'r Gronfa Gymunedol. https://green-city-events.eventcube.io/events/23572/wasteless-bathroom-ystafell-ymolchi-ddiwastraff
We will send you a link prior to the event., Cardiff & beyond, Everyone welcome
Event Details
Are you panicked by plastic or stressed out by single-use stuff? This workshop will help you take simple but effective steps to cut down on the amount of packaging and waste coming from your bathroom.
In this interactive zoom session you'll learn to make a selection of natural cleaning products and bathroom beauty treats. We'll be sharing demos, recipes and practical knowledge to help make greener living achievable and enjoyable.

You can choose to have a mini wasteless kit sent to you prior to the workshop so you can get started straight away or you can opt to just watch and learn.

About your tutors: Hannah and Becca run Green Squirrel and are advocates of lower waste living. They love to experiment with creative ways to waste less in their homes and can't wait to share these with you!
About the session:
This will be a friendly and interactive zoom session and we'll send you an email a few days prior to the event with all the info you need to join us. We will begin the session with a quick introduction to using zoom so that you feel comfortable taking part and asking questions.
Ticket prices and free places:
Over the past few months we've been able to offer our activities and events free of charge to our community due to the support of our funders. As we start to transition to a new long term and sustainable way of working we need to introduce fees once again.
We want our events to remain affordable and accessible so we will always reserve a number of free places for those that find the price prohibitive - no catches, no questions, we trust you and want to support you to learn new skills.
If you're interested in holding this workshop for your organisation then please get in touch for a chat: becca@green-squirrel.co.uk
We are very grateful for the support of the Community Fund.
------------------------------------------------
Ydy plastic yn gwneud i chi panicio, neu ddeunydd 'un defnydd' yn achosi straen? Gall y gweithdy yma eich helpu i wneud camau bach ond effeithiol i leihau faint o ddeunydd pacio a gwastraff sy'n dod o'ch ystafell ymolchi.
Yn y sesiwn rhyngweithiol zoom yma, cewch gyfle i ddysgu sut i greu dewis o gynnyrch glanhau naturiol, a nwyddau harddwch. Byddwn ni'n rhannu dangosiadau, ryseitiau, a gwybodaeth ymarferol er mwyn gwneud byw bywyd 'gwyrdd' yn gyraeddadwy ac yn hwyl.
Mae dewis gyda chi i drefnu i gael pecyn 'ddiwastraff' ei hanfon atoch chi ym mlaen llaw fel gallech chi ddechrau'n syth, neu mae croeso i chi aros i wylio a dysgu,
Gwybodaeth am eich tiwtoriaid: Mae Hannah a Becca yn rhedeg cwmni Green Squirrel ac yn eiriolwyr dros fyw mewn ffordd gwastraff isel. Maen nhw wrth eu boddau yn arbrofi gyda ffurf greadigol o wastraffu llai yn y cartref, ac yn methu aros i rannu'i syniadau gyda chi!
Gwybodaeth am y sesiwn:
Sesiwn cyfeillgar a rhyngweithiol 'Zoom' fydd y digwyddiad yma. Anfonwn e-bost i chi ychydig ddiwrnodau ymlaen llaw yn cynnwys yr holl wybodaeth a fydd angen arnoch er mwyn ymuno gyda ni. Dechreuwn ni'n sesiwn gyda chyflwyniad cyflym yn esbonio sut i ddefnyddio Zoom, fel yr ydych chi'n teimlo'n gyfforddus i gymryd rhan a gofyn cwestiynau.
Dros y misoedd diwethaf, rydyn ni wedi bod yn ffodus i allu cynnig ein gweithgareddau a digwyddiadau am ddim i'n cymuned, gyda diolch i'n cyllidwyr. Nawr ein bod ni'n trawsnewid i mewn i ffordd hir dymor, cynaliadwy o weithio, mae angen codi tal unwaith eto.
Rydyn ni eisiau i'n ddigwyddiadau parhau i fod yn fforddiadwy a hygyrch, felly rydyn ni pob tro yn cadw nifer o lefydd am ddim ar gyfer pobl sydd angen. Does dim amodau, dim cwestiynau- rydyn ni'n ymddiried ynddoch chi ac eisiau eich cefnogi i ddysgu sgiliau newydd.
Os oes diddordeb gyda chi mewn cynnal y gweithdy yma ar gyfer eich sefydliad chi, cysylltwch gyda ni am sgwrs: becca@green-squirrel.co.uk.
Rydyn ni'n ddiolchgar iawn i'r Gronfa Gymunedol.