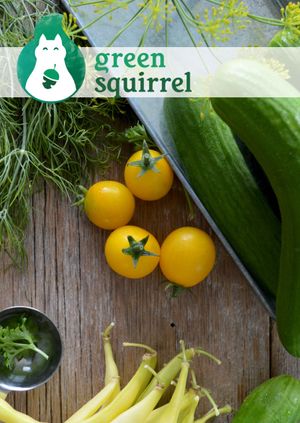 Virtual Grow-along / Tyfu 'ar y cyd' ar lein
14th Oct 2020 6:30pm - 8pm
Add to Calendar
2020-10-14 18:30:00
2020-10-14 20:00:00
Europe/London
Virtual Grow-along / Tyfu 'ar y cyd' ar lein
Join us for a friendly virtual grow-along and become part of a community of Green Squirrel growers across Cardiff and beyond!During lockdown we've been encouraging  lots of you to have a go at growing your own food at home and now we'd love to celebrate the next phase of the growing season with you - it's harvest time! The theme of this grow-along is: HarvestIn this interactive virtual session we'll explore what we are harvesting in our gardens, ways to use and preserve our harvest and share useful tips and tricks for seed saving. As usual we'll be joined by some of our project partners from the Edible Cardiff network and they'll be telling us about their projects as well as sharing their growing knowledge. We are excited to welcome Poppy and Vaida from Global gardens as our guest tutors. Vaida also has a beautiful seasonal food blog, One Small Spoon. They'll be sharing their tips for Winter growing and seasonal cooking - we can't wait!This will be a friendly and fun opportunity to pick up new skills and connect the growing community across Cardiff and beyond. Whether you are brand new to growing or have lots of experience we'd love you to join us.Good Food Cardiff Autumn FestivalThis event is part of the city-wide Good Food Cardiff Autumn Festival which is expecting to involve more than 1,200 people in growing, cooking and community sharing events throughout the city. The Festival runs from 12 September to World Food Day on 16 October.The Good Food Cardiff Autumn Festival builds on the success of the summer's Cardiff Growing Together programme which saw more than 14,000 plants, seeds and growing kits distributed to over 3,000 households.The festival will also be an opportunity to celebrate all of the fantastic work that community groups have done to keep the city fed and to bring us together through lockdown.About the session:This will be a friendly and informal zoom session and everyone is welcome. Feel free to join whilst you're eating your tea or hanging out with your kids! We will send you an email the week prior to the event with all the info you need to join us live. We will begin the session with a quick introduction to using zoom so that you feel comfortable taking part and asking questions.Ticket prices and free places: Over the past few months we've been able to offer our activities and events free of charge to our community due to the support of our funders. As we start to transition to a new long term and sustainable way of working we need to introduce fees once again. We want our events to remain affordable and accessible so we will always reserve a number of free places for those that find the price prohibitive - no catches, no questions, we trust you and want to support you to learn new skills.If you're interested in holding this workshop for your organisation then please get in touch for a chat: becca@green-squirrel.co.ukWe are very grateful for the support of the Community Fund. https://green-city-events.eventcube.io/events/26049/virtual-grow-along-tyfu-ar-y-cyd-ar-lein
We will send you a link prior to the event., Cardiff & beyond, Everyone welcome
Event Details
Join us for a friendly virtual grow-along and become part of a community of Green Squirrel growers across Cardiff and beyond!
During lockdown we've been encouraging lots of you to have a go at growing your own food at home and now we'd love to celebrate the next phase of the growing season with you - it's harvest time!
The theme of this grow-along is: Harvest
In this interactive virtual session we'll explore what we are harvesting in our gardens, ways to use and preserve our harvest and share useful tips and tricks for seed saving.
As usual we'll be joined by some of our project partners from the Edible Cardiff network and they'll be telling us about their projects as well as sharing their growing knowledge. We are excited to welcome Poppy and Vaida from Global gardens as our guest tutors. Vaida also has a beautiful seasonal food blog, One Small Spoon. They'll be sharing their tips for Winter growing and seasonal cooking - we can't wait!
This will be a friendly and fun opportunity to pick up new skills and connect the growing community across Cardiff and beyond. Whether you are brand new to growing or have lots of experience we'd love you to join us.
Good Food Cardiff Autumn Festival
This event is part of the city-wide Good Food Cardiff Autumn Festival which is expecting to involve more than 1,200 people in growing, cooking and community sharing events throughout the city. The Festival runs from 12 September to World Food Day on 16 October.
The Good Food Cardiff Autumn Festival builds on the success of the summer's Cardiff Growing Together programme which saw more than 14,000 plants, seeds and growing kits distributed to over 3,000 households.
The festival will also be an opportunity to celebrate all of the fantastic work that community groups have done to keep the city fed and to bring us together through lockdown.
About the session:
This will be a friendly and informal zoom session and everyone is welcome. Feel free to join whilst you're eating your tea or hanging out with your kids! We will send you an email the week prior to the event with all the info you need to join us live. We will begin the session with a quick introduction to using zoom so that you feel comfortable taking part and asking questions.
Ticket prices and free places:
Over the past few months we've been able to offer our activities and events free of charge to our community due to the support of our funders. As we start to transition to a new long term and sustainable way of working we need to introduce fees once again.
We want our events to remain affordable and accessible so we will always reserve a number of free places for those that find the price prohibitive - no catches, no questions, we trust you and want to support you to learn new skills.
If you're interested in holding this workshop for your organisation then please get in touch for a chat: becca@green-squirrel.co.uk
We are very grateful for the support of the Community Fund.